Eric and I have an abbreviated grocery list this week; somehow, we ended up with a lot of extra food last week, so we're still working on finishing it all. We also had this delicious spread on Saturday, when I woke up, saw it was Sweetest Day, and decided to show Eric I care about him through food.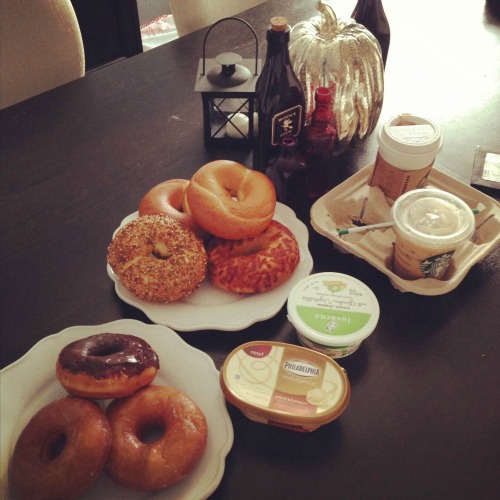 I slipped out of the house and went to Randall's, where, intoxicated by the smell of fresh-baked bread and fresh donuts, I bought way too much food for two people, as well as coffee drinks from Starbucks. Nothing says "happy Hallmark holiday!" like white chocolate cinnamon cream cheese (except maybe terrible/awesome lingerie from a discount store). Whatever — I love surprises, breakfast food, and October, so I was grinning from ear to ear as I was picking up all those goodies on Saturday morning. We're still working on finishing everything.
Here's the menu for the rest of this week!
Breakfasts
Nothing fancy this on the menu for this week, but I did decide to throw some Greek yogurt and blueberries into the mix.
Lunches
All leftovers, all the time!
Dinners
Beef stew (from last week)
Fajitas (from last week)
Crock Pot pulled pork + green beans
Pizza
Spaghetti or tacos (oh, ground beef, you're so versatile!)
We'll go shopping for food for the Halloween party on Friday or Saturday.
Workouts
A few people have asked me to share my workout schedule, so I thought I'd include that in this post as well. This probably isn't the best week to start doing this, as, historically, the week before I throw a Halloween party involves a lot of fun nights of running errands and eating Halloween candy and not a lot of exercise or healthy eating. But hey — we'll see how it goes.
Monday evening: yoga. (DONE! I did 40 minutes of Vinyasa yoga, and during all 40 minutes, my body felt like it needed WD-40. I have no idea why but I couldn't get anywhere close to "flow" tonight.)
Wednesday evening: spin + yoga for approximately 50 minutes total.
Thursday evening: spin + yoga for approximately 40 minutes total.
Saturday afternoon: 25 minute spin. (Yeah…we'll see how that works out.)
What's your week looking like?