This week was a good one and it went by so quickly!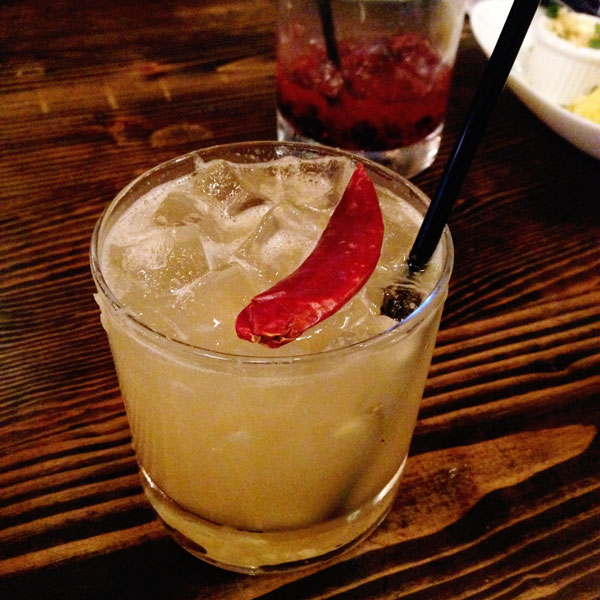 A couple weeks ago, my friend Carly, who works for Mexicue corporate, asked me if I could bring people to fill chairs at the "friends and family night" for their new location on 5th Avenue. Um, enjoying free food and booze while helping their servers get the hang of things? NO PROB. I showed up with Eric and 15 or so of my coworkers. The drinks and appetizers were great (though the entrees were all really spicy) and the new location is really nice inside. It was just a fun night out with people I like!
Other highlights from the week…
Writing
35 Amazing Six-Word Love Stories
Christian Louboutin Is Adding New Shades Of "Nude"
I also got to play with an Apple watch (!!) when I lent my wrist to this post!
Entertained by
How To Pleasure Your Man In 11 Easy Steps, BuzzFeed. This is amazing.
The Secret To Perfect Weed Butter, Adequate Man // Deadspin. Just in case you weren't sure what to do with that mini Crock Pot of yours.
An Oral History Of 'Mad Men', Clickhole. Discovered this gem in our office chat channel that's called "Why I'm LOLing."
The Secret to Staying Friends in Your 30s, New York Magazine. I'm alllll about "errand friends."
Amy Schumer Flawlessly Parodies Friday Night Lights to Skewer Rape Culture, Vulture. Nailed it.
How to seem smart in meetings without really trying, The Washington Post. So good.
Till Death Do Us Part, The Post and Courier. A Pulitzer-prize winning piece on domestic violence in South Carolina.
Outlander's Ron Moore & Terry Dresbach on Tartans, Redcoats and KNITS, Jezebel. A fun read for fans of the show.
In the midst of everyone freaking the fuck out about Lilly Pulitzer, I really enjoyed this 2003 Vanity Fair profile on her, as well as this essay by Lisa Birnbach about why, exactly, everyone is freaking the fuck out.
Why I Got Rid of My Wardrobe, Dallas Mom Blog. Saw this all over Facebook last week; I love how confident she is now!
How To Get Rid Of Clutter And Live Abundantly, The Toast. "If you have ever used a lotion, even once, get rid of it. Messy applicator tips are preventing you from practicing forgiveness. From now on, the only lotion you need is total acceptance of life on life's terms, and also a bottle of argan oil you have made yourself (you can produce argan oil by letting go of anger)."
How Living With and Loving Bruce Jenner Changed My Life Forever, The Huffington Post. Linda Thompson writes about her marriage to Bruce Jenner and living with his secret with so much grace and honesty. (Using "his" per GLAAD's recommendations.)
An Article About Black Women Shouldn't Have To Come With A Warning Label, BuzzFeed. Right in the feels, over and over again.
Obama's Anger Translator at the 2015 Correspondents' Dinner. Hilarious.
19 Faces Everyone Who Has Had Sex With A Penis Will Recognize, BuzzFeed. I feel totally comfortable calling this a "must-read."
This list of bird group names is maybe the most fascinating thing I read this week.
I also started reading Selfish, Shallow, and Self-Absorbed: Sixteen Writers on the Decision Not to Have Kids
; I'm about 70 percent done and it's good! Some essays feel a little repetitive, but it's good.
The week ahead…
The usual! Work, working out, trying to eat healthy, and trying to keep my plants alive.