Packing is terrible for a number of reasons, but mainly because it makes you hate yourself and your life choices. Why do I own this? Why didn't I throw this thing away three years ago? Why am I so goddamn materialistic and wasteful? WHY DID I WANT TO MOVE IN THE FIRST PLACE?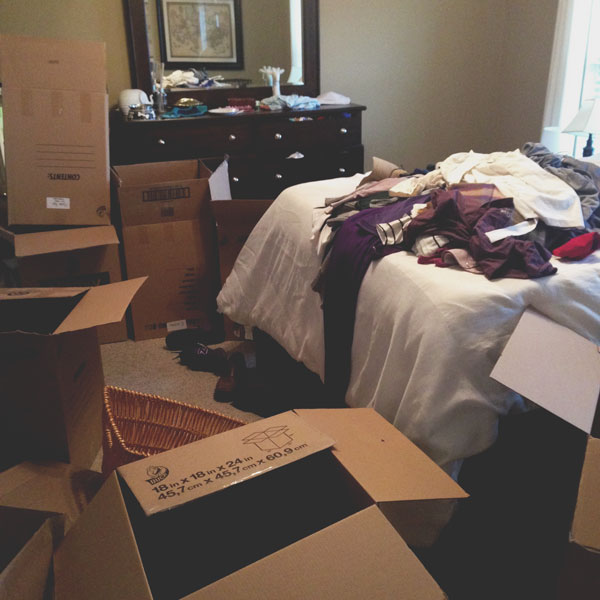 In the midst of packing hell this week, I happened upon a few interesting articles about clutter and how to get rid of it. The first, The Clutter Cure's Illusory Joy, was just an interesting read on how different cultures feel about clutter. Meanwhile, my friend Dallas is currently doing the 40 bags in 40 days challenge. And finally, this article had some really good advice on getting rid of things (even if you aren't going through a breakup). Here are the three best tips I took away from it:
1. Take everything out (of the closet, bookshelf, etc.) first. As you go through each item, ask yourself "Does this item spark joy when I touch it?" This helps you to think in terms of what you want you want to keep, versus what you need to get rid of. It also helps with the feeling that you're being wasteful.
2. De-clutter by category, not by location. In order, you should do clothes, books, papers, miscellany, and mementos. I actually didn't do this with packing (I've been doing it by location, but have also been jumping around a lot) but last night I righted the ship and went through my closet.
3. Scan paperwork and toss the original copies. Logically, I've known this is a good idea for a while…and yet I've never really felt compelled to do it. But now that I have a great scanning app on my phone (Scanner Pro is legitimately amazing), I'm feeling motivated to try it. I haven't started tackling the paper yet, but when I do that tonight, I think scanning some of it will be really helpful!