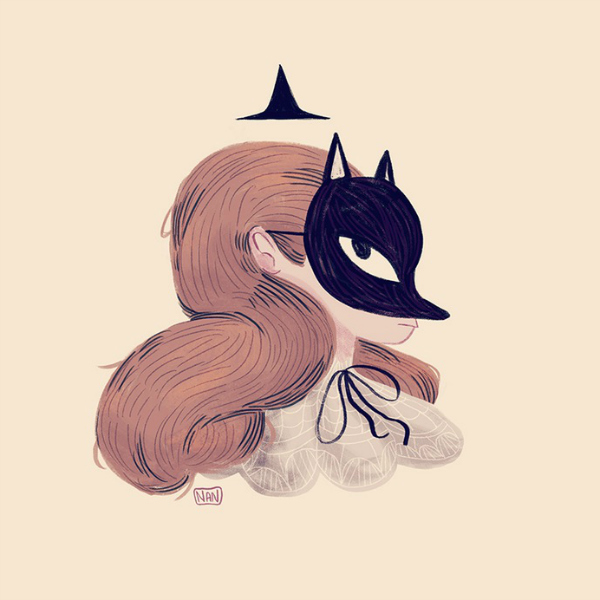 Art by Nan Lawson; buy the print here.
Hello, hello! Here's what I got up to this week…
Writing
Stop What You're Doing And Look At This Hot Harry Potter Boudoir Shoot
Reading
Three excellent and related pieces from Racked: A Closer Look at Debate Makeup, The New Pantsuit, and Meet the Makeup Artist Who Remade Hillary, Picked Lint Off Bernie.
Hillary Clinton's Locker-Room Talk, NY Mag. "Ben Carson looked desperately at Paul Ryan, wanting him to do something, anything. Paul just shrugged. What could he do? She was the president now. If she wanted to hang out in congressional locker rooms and "inspect the goods" (as she liked to say), how could anyone stop her? 'Ben,' Paul Ryan whispered. 'You know that if you're in charge, you get to do whatever you want to the people beneath you. That's what we believe.' Ben nodded. Of course that was right. How could that not be right?"
"You Girls Having Fun?", Eater. This is SO good.
Are You Ready to Meet Your Fixer Uppers?, Texas Monthly.
The last debate: Donald Trump doesn't care about democracy, The Washington Post. "I would be happy to talk about Aleppo, but honestly, it would pain me for people around the globe to have to hear him talk about Aleppo."
Hillary Clinton's 3 debate performances left the Trump campaign in ruins, Vox.
Children Don't Always Live, The New York Times. "When I realized Greta would not live, I wanted to die so purely, and so simply. I could feel my heart gazing up at me quizzically, asking me in between beats: 'Are you sure you want me to keep doing this?' But I found I could not give the order. Since my son was born, I've caught myself making concrete plans for my suicide if he were to die. I will draft a letter to my parents, or even tell them face-to-face. 'I'm going to meet my children,' I will say. If the world takes this one, I am not meant to be here. It is a frightening thought because it is so logical. How would anyone argue me out of it? Who would even try?"
Thousands of California soldiers forced to repay enlistment bonuses a decade after going to war, LA Times.
I WENT UNDERCOVER INTO THE TRUMP CAMPAIGN… AND COULDN'T BELIEVE WHAT I FOUND, Scott David Shapiro on Medium. This hed is awful but the piece is actually really interesting!
The Weird Economics Of Ikea, FiveThirtyEight.
Lainey Is Yours in Gossip, The Ringer.
When My Grandkids Ask Me What I Did to Fight American Fascism, I'll Proudly Tell Them I Tweeted a Few Times., McSweeney's.
When truth is stranger than fiction: TV writers weigh in on the presidential campaign, Los Angeles Times.
What 130 of the Worst Shootings Say About Guns in America, The New York Times.
Nasty women have much work to do, The Washington Post.
Shedding the Third Tear: Donald Trump's Kitschy World, Los Angeles Review of Books.
Hillary Clinton Has a Power That No Man Can Take Away, Slate.
23 Real AF Jokes That Will Make All Feminists Laugh, BuzzFeed. "ITEMS EVERY WOMAN SHOULD OWN: -Little Black Dress -Cute flats -Strappy s- ok now that the men have stopped reading, we revolt at dawn."
Everything you've ever wanted to know about my abortion, Bridget Todd on Medium.
7 Popular Mormon Bloggers on Why They Would Never Vote for Donald Trump, NY Mag.
Eight Women in Love, n+1.
This Is Not Forever: How to Break Up, Brooklyn Magazine. "Don't let yourself make a museum of them, don't scroll through old texts and old photographs, don't like their Instagram posts from 2014. Don't imagine them coming back. Don't ask mutual friends if they're seeing someone new. Don't put your heart in the fire anymore."
Loving
Black Jeopardy! and A Girl's Halloween (SO painfully real), PBS's Hamilton special and this Hamilton/Hillary rap, the trailer for Good Girls Revolt, this fantasy gender reveal, the return of Jane the Virgin, and the moment people realized they were dating idiots.
The week ahead…
Prepping for Halloween on The Today Show!