I'm leaving this afternoon for SXSW (I'm mentoring again) and I started packing this morning. If you're still throwing things into your suitcase (or you've just arrived and have a little down time when you can run to Target), here are the items I definitely recommend having for the weekend!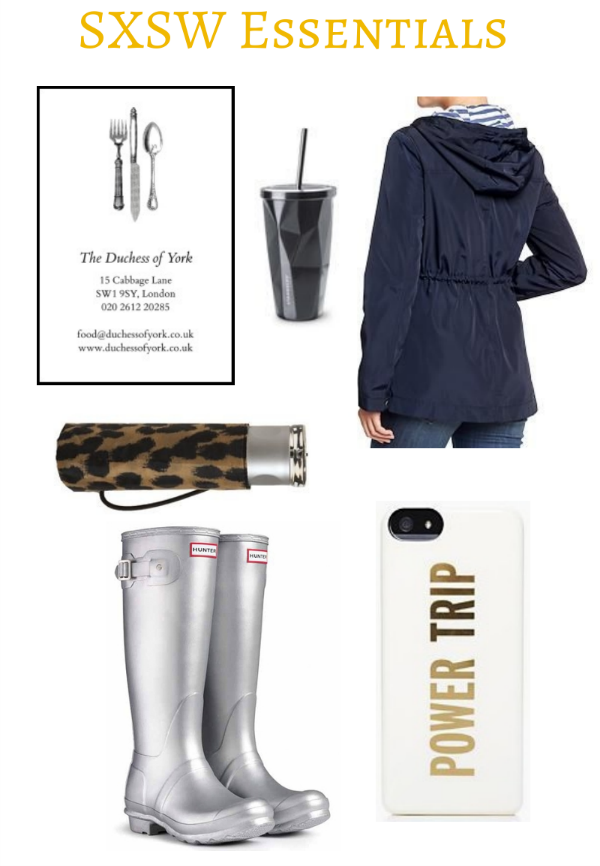 Business cards. Yeah, seems like the most obvious thing to take to a conference, but I often don't remember I need new business cards until the last second. If you're in that boat now, it's too late…but keep Moo in mind for next year—they have cute designs and deliver right to SXSW. Also, actually remember to pack them; last year, I didn't pack extras and only had the few cards I had in my wallet. Which I'm sure made me look totally hireable.
A water bottle. Since a bottle of water in the conference center costs about $4, you can save a little bit of money by filling up at your hotel in the morning, or, really, whenever you get the chance for some free water.
A rain coat, small umbrella, and rain boots. It rained so hard my first year at SXSW, I went and bought all these items at Target so I didn't have to spend the entire conference freezing and soaked. They are predicting rain again this weekend, but this time I'll be ready for it!
A backup charger. This is something I need to pick up on my way out of town today…then again, I say that every time I travel and then get annoyed about the price when I go to buy one. But seriously!
Other than that, I recommend packing comfortable shoes and a tote that can easily hold all your gear (and all the free T-shirts you pick up throughout the day) and that you wouldn't mind carrying into a bar in the evening. I've found that you're usually out and about all day without much time to change or drop things off at your hotel, so tote accordingly!