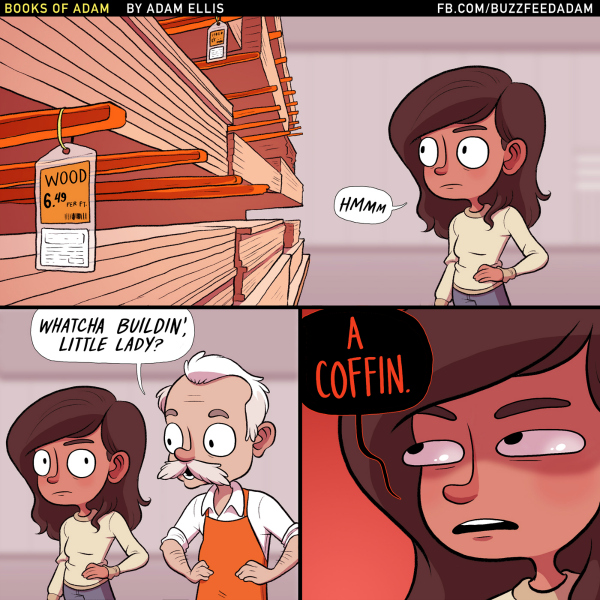 Art by Adam Ellis, based on my request. (Look at my haiiiiiir!!!!!) Also: here are some comments from a guy explaining to women that this comic is probably not about sexism, and "if you think this comic is about misogyny you're just projecting your personal biasses and insecurities into your interpretation." He'd also like you to know that "your attitude borders on misandry and it's especially ironic considering I'm feminist as I already told you."
Here's more of what I was looking at when I was checking my phone this week…
Writing
12 Things I Learned After Losing 80 Pounds & Keeping It Off For 13 Years — the post I wrote for BuzzFeed's Body Positivity Week!
Reading
This wee, I got about 60 percent done with Pretty Monsters by Kelly Link and read Through the Woods by Emily Carroll, which is sad and creepy and dark. (Both are, actually, and both happen to be YA.)
Also…
More Body Positivity Week goodness: I Promise You Don't Have To Lose Weight To Be Happy,, 9 Bodies I've Had, Confessions Of A Former Former Fat Kid, You Deserve Love, Even If You Don't Like Your Body, Getting Half A Boob Job Helped Me Love My Whole Self.
Inside Superstar Machine, Which Ex-Members Say Is a Cult Preying on New York's Creative Women, Jezebel. Oh…my god. Read the whole thing. Then read the comments.
Two gems from Lindy West in The Guardian: Break the period taboo: my name is Lindy West and I bleed, and The 'perfect body' is a lie. I believed it for a long time and let it shrink my life. Can't wait to read her book this week!
Everything That's Wrong Of Raccoons, The Toast. I laughed so hard through this entire thing. (Also: Everything What's Wrong Of Possums: It's All Of Them.)
My Friends Would Rather Have Their Guts Cut Open Than Be Like Me, The Establishment.
On Homecomings, The Atlantic.
Unearthing the Secrets of New York's Mass Graves, The New York Times.
Does Your Daughter Know It's OK To Be Angry?, Role Reboot.
Put your kids to bed early to make them smarter, happier, and fitter., Slate. Put yourself to bed early too!!!
Crossing the Line: How Donald Trump Behaved With Women in Private, The New York Times. Gross.
Why your Facebook feed is filled with women selling essential oils and press-on nails, Vox.
How To Make The Best Chocolate Chip Cookies Ever, BuzzFeed. Do yourself a favor and make "The Ultimate." They. Are. INCREDIBLE.
bell hooks and the Sour 'Lemonade' Review, Ebony.
Howard Stern, Donald Trump, My Dad: Lessons in How Men Talk About Women, NY Mag.
A Couple in Chicago, The New Yorker.
Poor People Deserve To Taste Something Other Than Shame, The Establishment.
Gender reveal celebrations for babies help explain transphobia., Slate.
Think Pieces About MEEEEEEEEEEEEEEEEEEEEEE And How I Could Possibly Be Wrong, Eschaton.
Loving
This tweet, this one, this kid's dancing, and emo Smash Mouth.
The week ahead…
Spending a few days at home in Michigan!