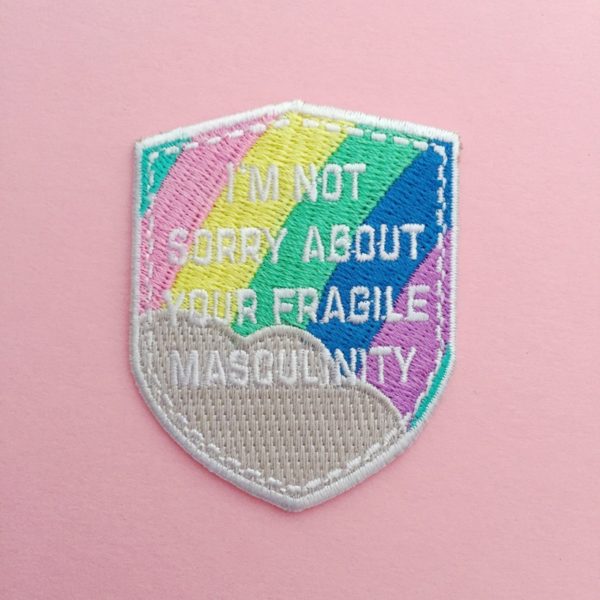 Patch & photo by Hand Over Your Fairy Cakes; buy it here.
HI! Just taking a brief break from my vagenda of manocide to share the best stuff from this week!
Reading
This week I finished The Nest (really great writing, but I really didn't like the ending) and Modern Lovers (very good all the way through), and now I'm starting Sweetbitter, which my friend Rachel described as "absolutely horrible writing, but I couldn't put it down."
Today's Vagenda, Sara Schaefer on Medium. "1:30 pm. Doctor's appointment — ask about 'pleasure abortions.' Do they do group packages? Alison's birthday is coming up. 2:55 pm. Retail therapy; there's a sale at Michael's. Purchase 37 mason jars. Text Jenny for her scrotum-infused kombucha recipe. Commit vehicular manocide in the parking lot. Text while driving; tell the internet mob they can stop — you've just killed the man you falsely accused of rape."
The Uber Killer: The Real Story of One Night of Terror, GQ. This is just chilling.
Inside Glossier, The Beauty Startup That Just Happens To Sell Makeup, BuzzFeed.
The Exact Moment Amal Clooney Realized She Settled, The Cut.
98 Photos From My Camera Roll That Will Make You Say "Jen, That's Way Too Many Pictures Of John Stamos", BuzzFeed.
This Gawker.com style guide from 2007 proves Nick Denton's blog invented web writing, Insider. Very good writing advice here.
The writing class I'd like to teach, Signal v. Noise.
The Charmed Life of Pandora, Racked.
Black Health Matters, The New York Times. "All the rage and mourning and angst works to exhaust you; it eats you alive with its relentlessness. These slayings obey no humane logic. They force you to reconcile your own helplessness in the face of such brutal injustice, and the terrifying reality that it could happen to you, or someone you hold dear."
The bizarre true story behind the "this is a work of fiction" disclaimer, Slate. The most interesting thing about this to me is that a female researcher tried to stop them from getting sued, and they didn't listen to her…and then they got sued.
The Age of Post-Truth Politics, The New York Times.
From the attic to the Smithsonian: black history museum is full of 'found' items, The Guardian.
Inside Facebook's (Totally Insane, Unintentionally Gigantic, Hyperpartisan) Political-Media Machine, The New York Times.
Fat Shaming is Not an Individual Problem, It's a Cultural One, Lesley Kinzel on Medium. "Certainly, beauty standards and body shaming affect and hurt all women. But they hurt fat women in ways that are different and far more specific and debilitating than women who are not fat, with measurable impacts ranging from the psychological to the economic. 'It's okay to be curvy but nobody should be obese.' Choke on that trash before you ever say it again. Effectively supporting women who fight against fat shaming means supporting all women who are in the battle, even the women who make you most uncomfortable. Especially those women. Shaming comments do not get less damaging the fatter a person is; it's actually the other way around. The women who need your support the most are also the ones least likely to get it." Choke. On. That. Trash.
Entertained by
Mr. Reed, David Cross on date rape (an oldie but a goodie!), this tweet and this one, this actual hero, and this Black Girl magic.
The week ahead…
Keeping my eye on the prize: the three-day weekend!